Book Your Jeep Camper Today!
WELCOME TO ZAZU CAMPERS MAUI JEEP RENTALS
Aloha! We provide the best Jeep camper rental services on Maui. Our fleet of Jeep Wrangler rentals is built for all kinds of terrain on the island: from interior lowlands to high-altitude mountain slopes, our camper jeeps are the perfect fit for camping and outdoor enthusiasts vacationing on Maui!
If you enjoy camping and adventures, Maui is one of the most beautiful and breathtaking islands on Earth to explore. You'll never forget waking up to a beautiful sunrise or watching the sunset during your time on the island. We help you navigate Maui's delicate ecosystems, and guide you with best camping practices to make sure you're camping pono. 🙂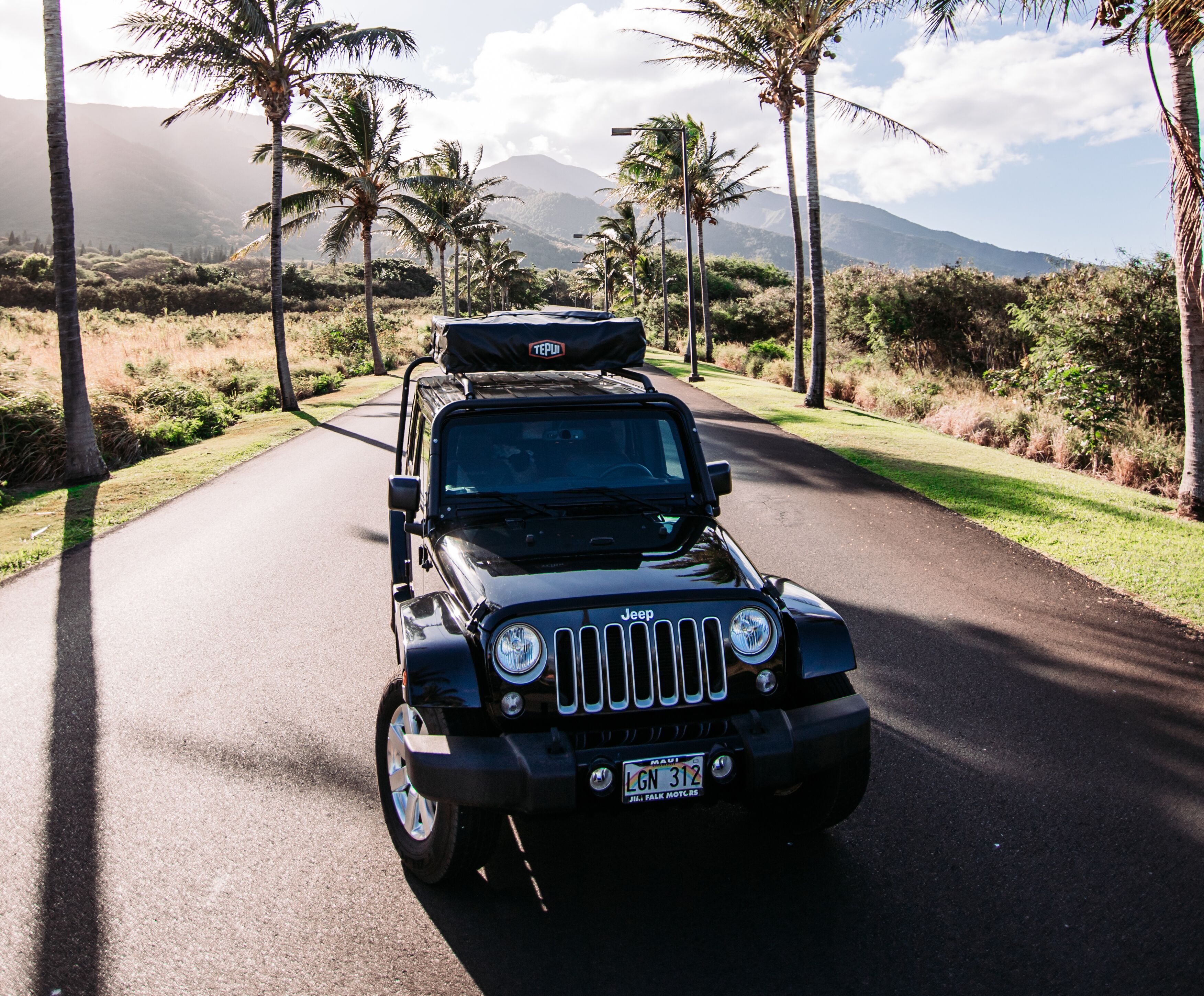 ZAZU Campers jeep RENTALS IS READY TO GO WITH YOU ALL THE WAY!
Maui is home to some of the most magnificent landscapes housing incredible campsites.  We recommend the best legal campsites to our customers to ensure that you experience the best of the island. 
To make your time on Maui more exciting and memorable, you'll need the right Jeep camper rentals on the island and we are ready to recommend our favorite local restaurants, hikes, and more!
Our Maui Zazu Camper Rentals services are customized to make your entire exploration on the island a remarkable one.
Our jeep wranglers are also equipped to make your camping experience on the island a breeze. You'll get all the things you need in your Jeep to make your camping trip a true adventure.
LEARN ABOUT HAWAIIAN CULTURE WHILE EXPLORING THE ISLAND
Many tourists barely scratch the surface of Maui's breathtaking gems! At Zazu Maui Camper Rentals, we won't let that happen! We'll recommend the best places to go camping on Maui so that you can have the most memorable experience. We take great pride in recommending places to explore that maintain respect for the local community, as well as the laws pertaining to camping on Maui. In our welcome letter, you'll find videos about Hawaiian culture, relevant issues that the island faces, and information on respectful camping practices. We require all guests utilize the Leave No Trace practices for camping when renting our vehicles. 
We do not allow our Jeeps to camp in unauthorized locations. This includes, but is not limited to the area between Ukumehame Beach Park and Oluwalu. The Jeep Campers are only to be taken to legal campsites suggested to you in our Welcome PDF. We don't allow the Jeeps to just camp wherever they want, as this is currently illegal on Maui. Please stick to the list provided to you, and you won't have any issues! If you go against this guidance, you will lose your security deposit and face possible County enforcement. Thank you for understanding the delicate nature of the island infrastructure.
ABOUT ZAZU Campers
Our story at Zazu Maui Camper Rentals is as unique as our excellent services. It all started on a porch. Not just any porch… The front porch of a green plantation house in the heart of Paia, Hawaii. Spencer had the idea to give guests a local style adventure experience on Maui. We are passionate outdoor enthusiasts and love showing guests the one of the most beautiful islands in the world. There is no better way to explore the island than with Zazu! 
In the Aloha spirit, we'll make it easier for you to learn as much as you can about Maui. Upon rental, Zazu Maui Camper Rentals provides a user-friendly document for guests to learn more about the island as well as the best places and spots to explore. 
EXPERIENCE MAUI WITH A FULLY EQUIPPED JEEP CAMPER RENTAL!
Explore Maui In Local Style
Locals know all the most breathtaking spots to explore on Maui like the back of their hands. Our team has deeply planted roots in Hawai'i! We can recommend all the best places to explore on the island, including any rare gems that are still respect the local community. From breathtaking waterfalls, to the most beautiful beaches on the planet, volcanoes, marine life and more, the number of places you can explore here is almost endless.
What to do on Maui?
Upon booking you will receive our list of recommendations of things to do on Maui! This includes some of our favorite spots on the island, from waterfalls to beaches to campsites where you can enjoy a true island adventure in your jeep camper rental! We are here to help in any way we can. Always feel free to reach out with questions!
What People Are Saying About Zazu Campers and our Jeep Camper Rentals
The Jeep was perfect! It went everywhere and anywhere we wanted to go. We toured the whole island like roving hiking, swimming gypsies. Spencer was great, super responsive with questions and recommendations. Would definitely rent again next time we're in Maui
Cindy P
Spencer was Awesome! Him and his Jeep made our stay here in Maui even better! His Jeep was in great shape and a pretty unique blue, it really stood out compared to the other normal rental jeeps. Spencer couldn't had made it any easier for us with the airport pickup/drop off. He was super cool and always easy to get a hold of. Would definitely recommend!
Alberto S
Spencer's Jeep was perfect for our adventurous trip to Maui. Camped right on the beaches, drove the entire island & made some awesome memories! The Jeep was super clean. Spencer was very kind & flexible with our schedule. We will definitely be renting this rig again on our next trip to Maui.
Dayna W
NEED MORE INFORMATION OR ARE YOU READY TO GO CAMPING ON MAUI?
At Zazu Maui Camper Rentals we are always excited to provide all the information you need about exploring Maui including legal campsites and maps. You can make reservations for our jeep wranglers here, by contacting us on our website or by calling us at 808-446-1509. Our customer support team will provide all the answers you need to all your questions to make your time on the island absolutely stress-free.