What if I told you, you could get a rental car and lodging, for a fraction of the price of staying at a resort? What if the vehicle was stocked with all the camping essentials? From a Tepui rooftop tent, to a Coleman camping stove, to even ENO hammocks. What if I also told you, that this vehicle was a freaking Jeep Wrangler!
With Zazu Campers, you can have all of that and so much more.  We are so stoked to be sharing with you how we go car camping on Maui in our Jeeps! We will be talking about why car camping in a Jeep Wrangler is the best way to explore Maui. Next, we will cover all of our favorite car camping locations on Maui (well most of them anyways, book with us to find out all of our favorites). And lastly, we will give you a detailed overview of the essential camping gear we provide in our camper Jeeps. 
Why Did We Choose A Jeep Wrangler For Car Camping?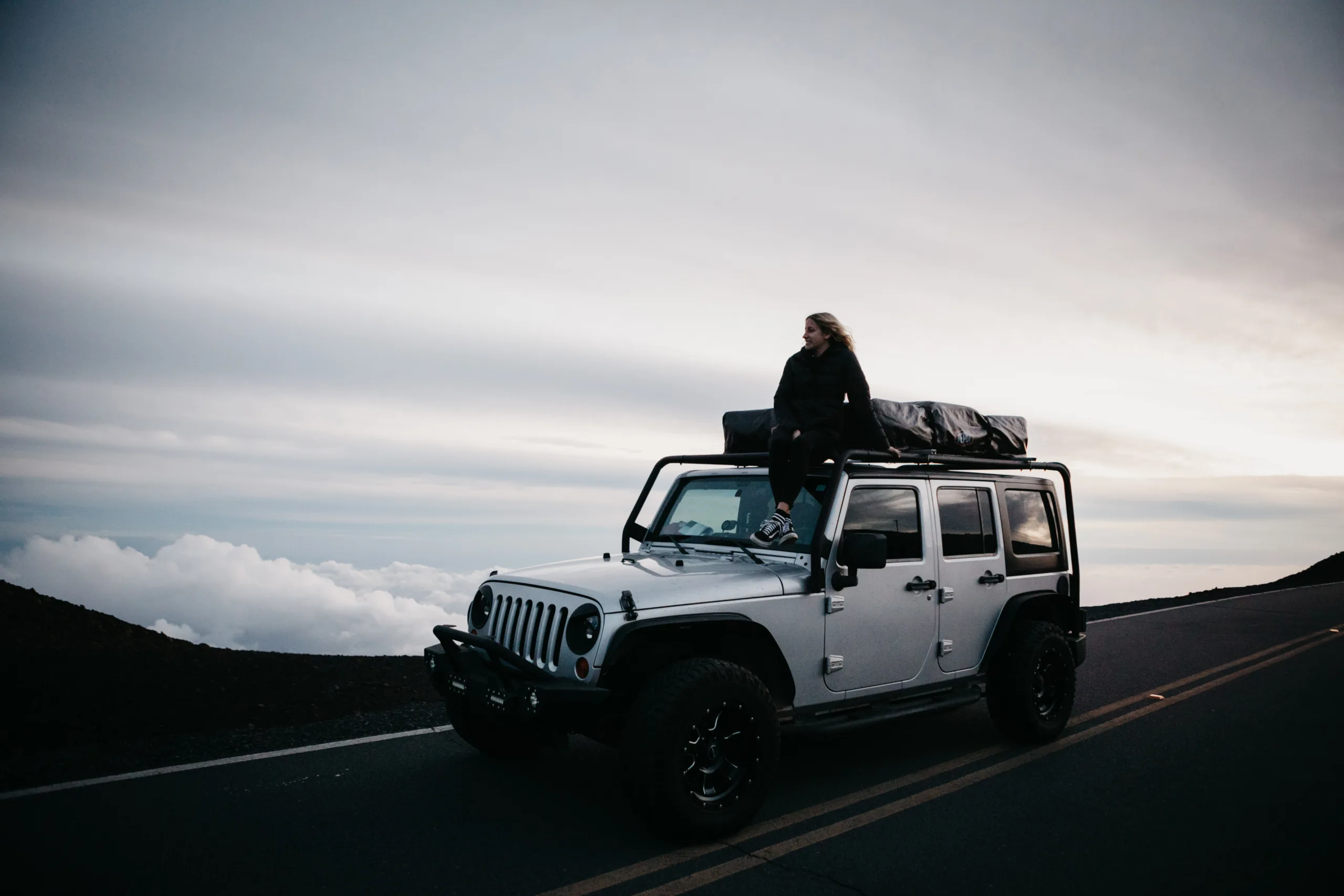 Before we explain why we chose the Jeep Wrangler, if you are curious about how Zazu Campers all began, click here. With the increasing popularity of car camping we knew this was a market we wanted to focus on. From adventure seekers looking to ditch the resort, to the cost savings of attaining lodging and a rental vehicle all in one, we felt this was a no-brainer. Especially now during this COVID era we live in, what better way to be socially distanced than to be car camping? In deciding what our ideal camping vehicle would be, we discovered many different vehicle options from vans, to RV's, to even sedans, and SUVs with rooftop tents.
When deciding on the Jeep Wrangler as our flagship vehicle, we took many features into consideration that we felt our customers would want in a camper rental. The first being the rentability of the Jeep in general. Seeing how popular the Jeep Wrangler is to rent in general, we thought why not take it one step further and offer people the same Jeep people know and love, but with the functional and super comfortable Tepui tent, and camping gear.
Another benefit of the car camping in the Jeep is the fact that it's made for exploring Maui. It's ability to handle all types of terrain from wet roads to dirt trails, and of course the 4wd capabilities, makes the Jeep Wrangler the perfect vehicle to truly adventure through Maui. Being in a tropical environment means the weather can change drastically in minutes, so it's comforting to know that the Jeep rental is more than capable of getting you out of a variety of situations safely. We also thought, who really wants to drive around in a big van or RV their entire trip?
I mean, I guess it's like van camping, but cooler you know?! Jeep Wranglers are already amazingly fun to drive, but our Zazu Jeeps with the racks and Tepui set-up, make it possible to car camp in style. From the adventure-seeker to the overland enthusiast; it's impossible not to appreciate the functionality and aesthetic of our camper jeeps. It's not uncommon to get complimented throughout your trip on how sweet the setup is, and quite frankly we agree!
Maui Car Camping Locations
Despite being a small island, Maui is home to some of the most amazing car camping spots in the world. With great weather all year long, multiple climate zones in such a small radius, and not to mention the stellar views, there's really no better place in the world I can think of to try out car camping, or "glamping" for the first time.
One day you could be camping along the beach, waking up to the sound of waves crashing on the shore at Papalaua Wayside Park. The next day you could be cuddled up with your significant other in the chilly 6,200 ft elevation Polipoli area. Then next, you could be cruising through the jungles of Hana and camp in the beautiful Waianapanapa State Park. There is literally so much to see and experience while car camping on Maui, which is why we want to show you all of our favorite spots so you can plan and get the most out of your trip. 
Now before we start, one major key to car camping on Maui is to be prepared. Do your research of the different spots. Find out exactly what camping spots are available, and most importantly, what permits or reservations are needed. We have seen many of our guests come in on a last minute trip, just to find out they are having a difficult time securing campsites.
But don't stress about this too much. From the moment you book your reservation, we will be here for you to help you with any questions you may have on campsites, and will work with you to find a spot(s) to camp. You also want to know what you need to pack. Maui has great campsites from sea level, beachside areas with 70-80 degrees Fahrenheit, to 6,000-8,000 ft elevation where the temperatures can drop in the 40s. Although we are a tropical island, you definitely don't want to get stuck in the cold without warm clothes at Hosmer's Grove. One disclaimer: Due to COVID, many of these spots are temporarily closed for car camping at the moment, but as things are continually changing and opening up, these spots should be available to camp at soon!
Hosmer Grove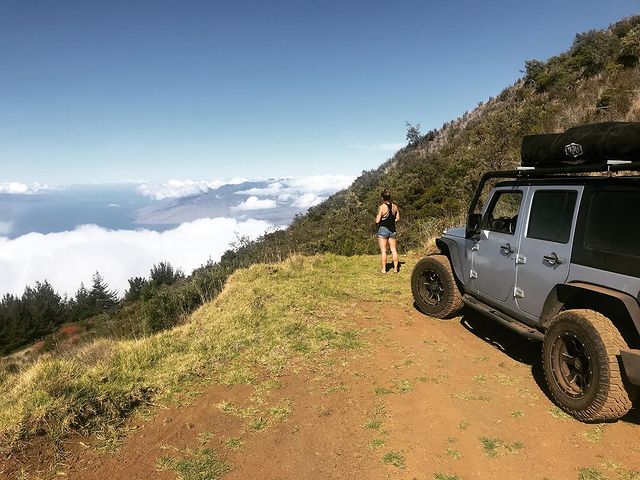 (Currently closed for car camping since COVID) Hosmer Grove, "Hosmer's" as called by locals, is part of Haleakala National Park and does not require reservations for car camping. They operate on a first-come, first-serve basis. It's just below 7,000 feet in elevation and can get very chilly – near freezing at night and daytime highs ranging from 50-65° F (10-18° C). Even though Maui is a tropical island, do not underestimate how cold it can get at these elevations. We have had some guests say it was a lot colder than they expected. If you are deciding to camp here, make sure you let us know, and we can provide you with some additional blankets if needed.
This spot is perfect if you want to see the sunrise from the summit of Haleakala – only about a half hour drive away, so no need to wake up at 3AM to get there in time! If you intend to watch the sunrise, be sure to book your reservation well in advance on the state website. It's a bit confusing because they use the word "tours" instead of permit but this is the official site. A 3-day permit to the park is $25, which is also the maximum amount of days you're allowed to car camp here. This is separate from the sunrise reservation. There are some great hikes around the campground that are worth exploring! Click here for more info on Hosmer Grove.
Waianapanapa State Park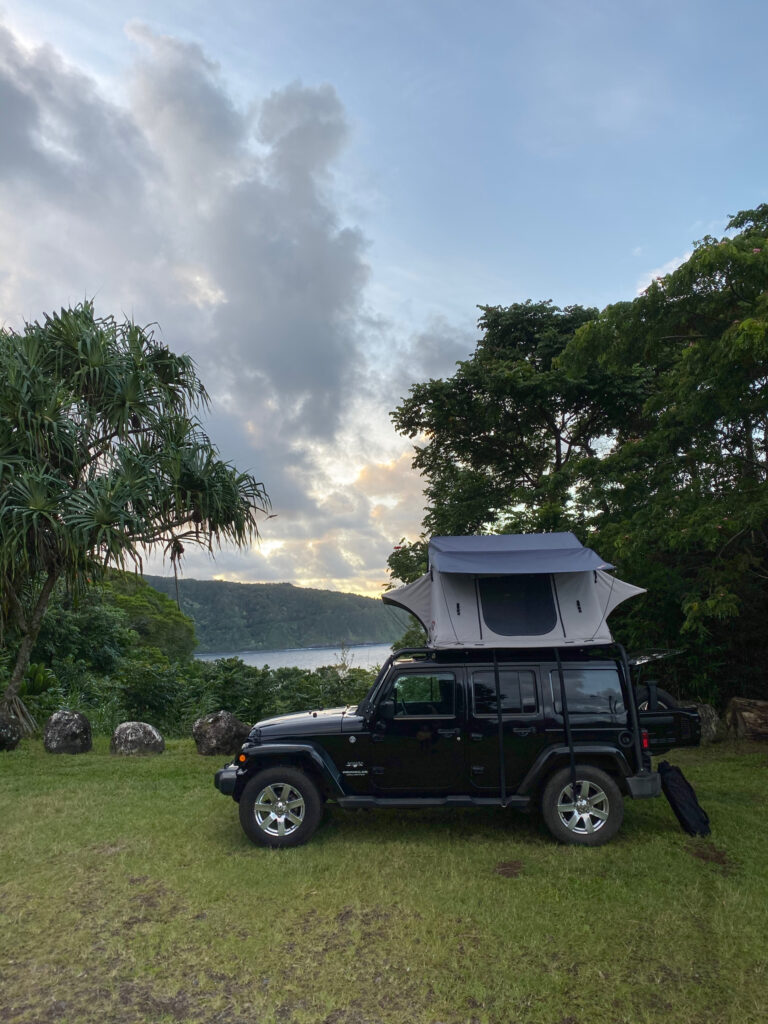 (Cabins open, tent camping closed as of now). Waianapanapa, or "Wainaps", is home to the famous Black Sand Beach, a must see spot even if you choose to camp elsewhere. Please note that reservations are now required for all vehicles, and walk-in entry to the park. Visit gowaianapanapa.com for info and to make parking reservations up to two weeks in advance. There are a total of 6 car camping permits available per day, so if you are deciding to camp here, make sure to get your reservation quick as it fills up fast. Cost for a campervan permit is $18/night + $3/night for each additional guest. If you have a Hawaii ID, they knock off 33%.
If you book far enough ahead of time, it can be nice to book a cabin as well. Within the last 5 years or so they have done extensive renovations to these, and are a perfect getaway from the outside world, with a bit more amenities than just pure car camping in the Jeep. Each cabin offers multiple bunks, a full-size fridge, hot plate, kitchen sink, bathroom w/ shower, and a beautiful covered porch, all for $90/night for non-residents When entering the park, it can be a little confusing regarding where to go for car camping.
Make sure to refer to the state website on where to park for car camping. Also when you book with us, we will provide a list of recommendations that includes exactly where to park for vehicle/van camping. You are not allowed to camp in the campground and parking area.
There is a coastal pathway that goes from the black sand beach, all the way down to the end of the park, that is definitely worth checking out.  Be sure to explore all of the caves on  the way down to the beach. There's a legend that the Hawaiian princess Popoalaea fled from her abusive husband chief Kakae. She hid within one of the caves while her maid was fanning her in the cave with a Kahili (royal feathers). Kakae noticed the reflection of the kahili, found then killed the princess. Sometimes hundreds of thousands of opae (tiny red shrimp) collect in the pools, turning the water red, which represents the blood of the princess. So much mana (energy)  in these areas, you can feel it! Click here for more up to date info on Waianapanapa and to secure your reservation.
Kipahulu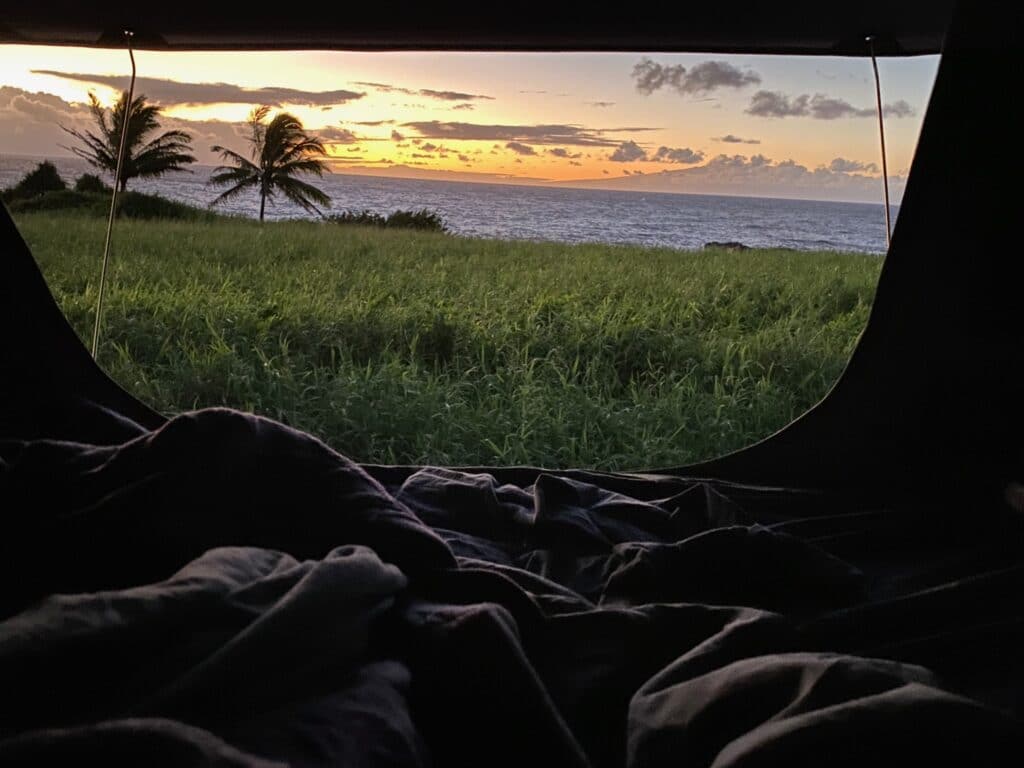 (Campgrounds remain closed as of now) Haleakala National Park at Kipahulu is one of our favorite spots for car camping with the Jeep and usually our go-to when we get out to Hana. The best part is there are no reservations required as it is first-come, first-serve. We've never heard of it filling up.
The campsite is a short walk from the bottom of the famous Pools of 'Ohe'o, or Seven Sacred Pools. Definitely a must stop, weather permitting! Make sure to check the weather report, as this area can get dangerous with flooding, and change in minutes. Also a short walk from the campsite is Pipiwai Trail, which is a beautiful hike to Waimoku falls. To get into the park, the cost is $25 and is valid for 3 days, which is also the maximum days you can camp here. We recommend camping upwind from the facilities, near the ocean, and away from those trees that drop those sticky berries that are tough to get off of the jeeps. Click here for more info and the latest updates on camping at Kipahulu.
Camp Oluwalu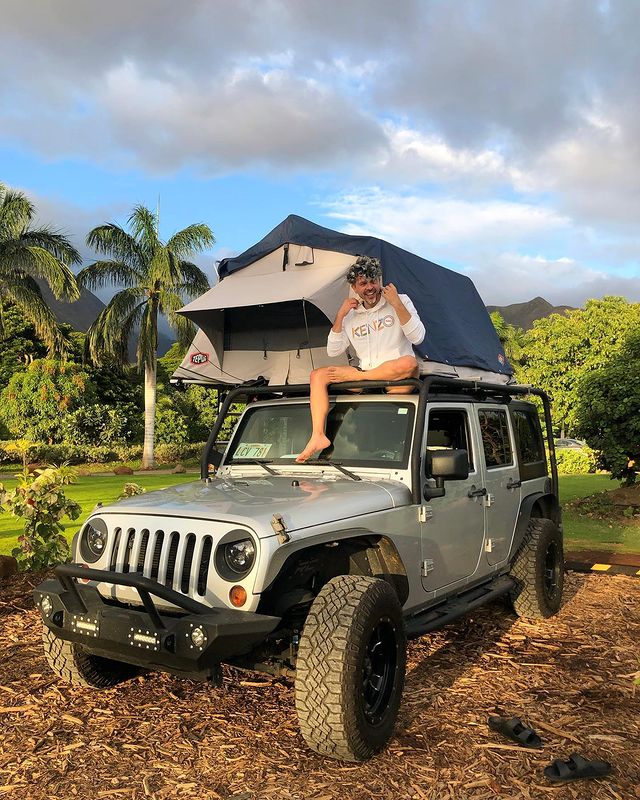 (Currently Open!). Camp Olowalu is a privately run campground located on the beautiful and sunny West Side of Maui. Reservations are required and can be found on their website. This part of the island is great for beginner surfing as well as snorkeling. There are a ton of little spots all around here that usually have nice little waves that are also protected from the tradewinds. This area is also equally well-known for those perfect Maui sunsets. You can pretty much count on it year round! The campgrounds are located off the main highway for a bit quieter night than Papalaua, though the campground isn't quite as beachfront. The trade-off is waking up on the top of the Jeep to the unreal West Maui Mountain view!
One perk of car camping in the Jeep here is that the facilities are probably the cleanest on the island. These guys take care to make sure to keep all of their grounds pristine. Nearby (like right across the street) are a few local fruit stands, as well as the famous Leoda's Restaurant/Pie shop. Definitely stop here for at least one meal. Click here for more info on Camp Oluwalu, and to make your reservation.
Polipoli Spring State Recreation Area
Polipoli or known locally as Poli's, like Waianapanapa, is a state park that requires permits that can be obtained online. The bi-coastal views you'll see on your way in and out of the park as well as from the top are jaw-dropping – it's amazing to be able to see both the north and south shores of the island! The elevation at the top is 6,200 feet, which leads to much cooler temperatures, especially at night. There are no fires allowed in the camping area. There are a ton of great hiking trails all around the park that are awesome to explore!
The light off-road trails to the upper portions of the park are what really makes car camping in the Jeep so superior! The 4WD capability of the Jeep gives you the peace of mind that you can easily navigate up to the higher, more private spots with the best views!
Also in the park is a popular disc golf course. Be careful on the drive up into the park, it can be a little dicy, especially if there has been rainy weather. We've had hits and misses with the weather. Sometimes clouds roll in and block the views, but when it's clear it's absolutely amazing! Keep and eye on the local weather forecast to up your chances of getting the best views! For you adventure seeking couples, if you want to try paragliding, get in touch with Proflyght Paragliding! Click here for more info and camping updates for Polipoli.
Ke'anea Uka (Formerly YMCA Camp Keanae)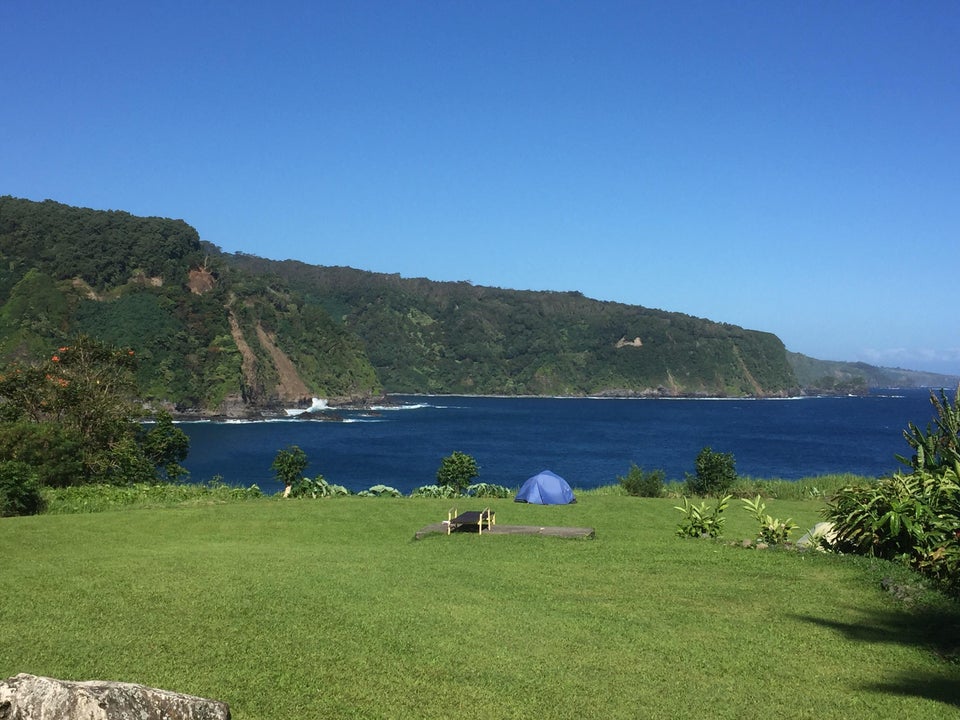 Conveniently located about half-way to Hana, Ke'anea Uka (formerly camp Keanae) is great if you want to split up your drive out to East Maui. Camper Van Booking (formerly "Van Camping") is available at Ke'anea Uka for $116/night plus $15/night for each additional guest, up to 4 total people. Reservations are required and can be made by filling out the Online Booking Request Form on their website. As of May 2023, the online booking system is not yet finalized, so we recommend filling out the form to ensure your request is seen. The beautiful views from the cliffs in Ke'anae are absolutely breathtaking, and what really make this spot special and ideal for Jeep camping. There is a nearby pool and waterfall that makes for a great spot to take a refreshing dip! There aren't any stores or anything nearby, so make sure you bring everything you need for your stay here!
There's an awesome spot called Honomanu Bay just a mile from the campsite. This spot is often passed by visitors but is a Jeep camping paradise! At Honomanu Bay, you will often see local families spending the day out together fishing, and surfing if the swells are in. Be sure to be respectful, clean up after yourself, and show aloha! When you visit special places like this, it should be treated as if you are a guest in someone else's backyard, because quite frankly, you are! Main ting you show aloha to da locals and respect da 'Āina (the land), you going be all good cuz! The Ke'anae peninsula is a cool little area to explore as well and it's also often overlooked by tourists. Don't leave without some of Aunty Sandy's Banana Bread *drools*. Click here for more info on Camp Keanae
Papalaua Wayside Park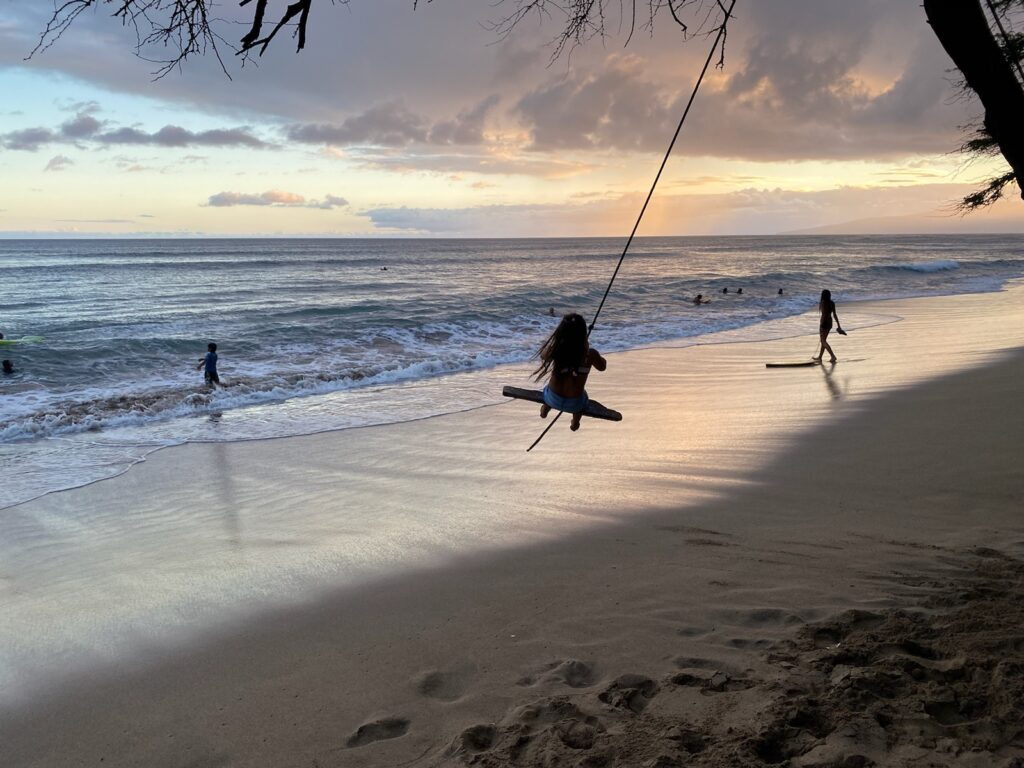 (As of 3/17/21, the county is not issuing permits due to COVID) Papalaua, or Thousand Peaks, or Grandmas as called by locals is the spot if you want to wake up to the waves crashing on the shoreline. Though the county doesn't make it super easy to get a permit for this spot, the hassle is worth it! Permits for Papalaua are obtained in person at any of the local county permitting offices. Alternatively, you can email applications and send a check by mail, though they recommend this method only if you are applying for a permit that is more than 30 days out. Permits are a definite MUST at this park, and park rangers usually do a sweep every night.
The sunsets are almost always stunning and spectacular at Papalaua and the weather is dry, sunny, and warm almost every single day. Sometimes there is friendly surf for beginners here and nearby, especially in the spring to fall months. The beaches at Papalaua are all excellent and perfect for beach day chilling! For more info on Papalaua, click here.
The Gear
Now that you got the Jeep, and have a better idea of the potential Maui campsites, we'll take you through exactly what our rigs come equipped with, and why these items come in so clutch for your Maui adventure.
Tepui Tents
The first and most important item (besides the Jeep itself) is the Tepui rooftop tent. After researching what tent we wanted, we found that the high quality, ease of setup, comfortability, and durability of the Tepui tents were the way to go. Tepui is definitely one of the biggest names and pioneers in the rooftop tent industry so we knew they were a brand we could trust. Tepui was recently acquired by Thule in 2018, further increasing their ability to create quality products, backed by an even stronger established brand, known for its quality products.
We decided to outfit our Jeeps with the Tepui Ruggedized Kukenam 4 rooftop tent. The 4-person tents on our rigs makes for plenty of room for couples looking to adventure Maui. The tent is also the "ruggedized" version as advertised by Tepui, which include: A diamond plate base, 360g dual stitched fabric (40% heavier than standard models), anti-condensation mat (1/2″) under the mattress, fully wrapped 3/4″ heavy duty internal frame, heavy duty 3-bolt hinges and welded aluminum base construction, extra-large internal pockets, gear anchor points, & bedding Straps.
So rest assured, you are getting the highest level of quality and protection from the elements, from one of the most trusted names in the rooftop tent game. And did we mention how comfortable the mattress is? With a built-in memory-foam mattress, a guaranteed flat surface to sleep on, plenty of ventilation, and places to stash your gear, Tepui rooftop tents mean a comfortable night's sleep no matter where your adventure takes you.
ENO Hammocks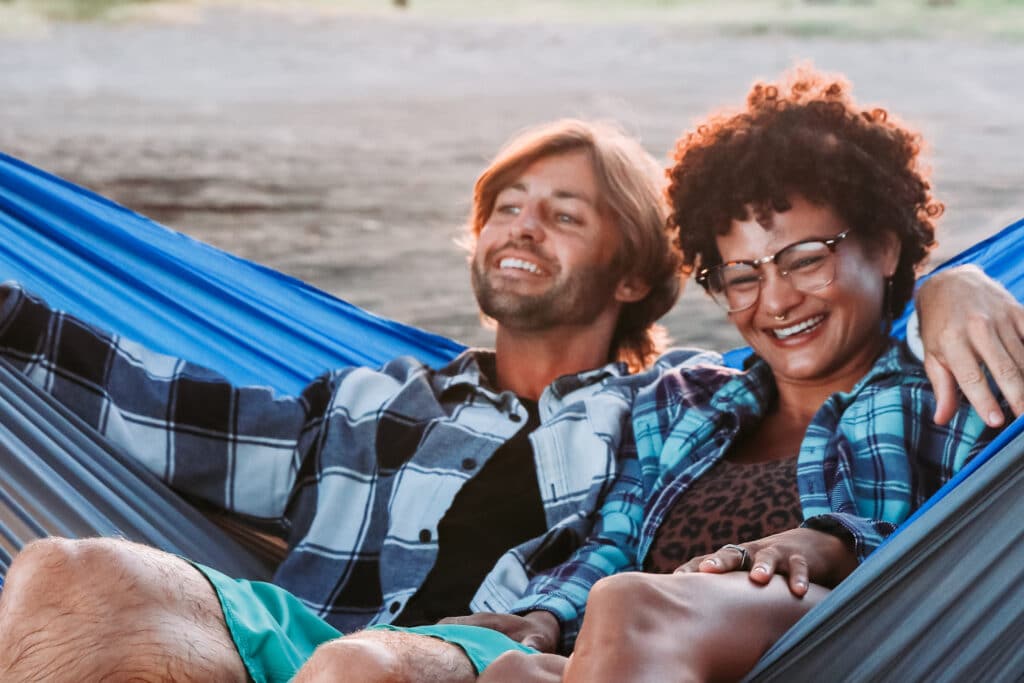 Bold but true statement: Eagle Nest Outfitters are hands down the best camping hammocks in the game. They are lightweight, portable, durable, low maintenance, and very easy to set up. ENO came up with the first knotless suspension system for hammocks, which makes it the most easy and adventure ready hammock on the market. Another reason why we chose ENO hammocks, is their commitment and mission to collaborate with nonprofit partners to protect the very wildlife these hammocks were made to enjoy. Even the straps that connect to the tree are made wide enough, and of material that "leaves no trace" and protects the trees we use for suspension. From using high-quality, post consumer recycled materials, to minimizing waste in the production process, their commitment to sustainability is something that resonates with us living in such a beautiful and treasured environment like Maui. 
Cooking Gear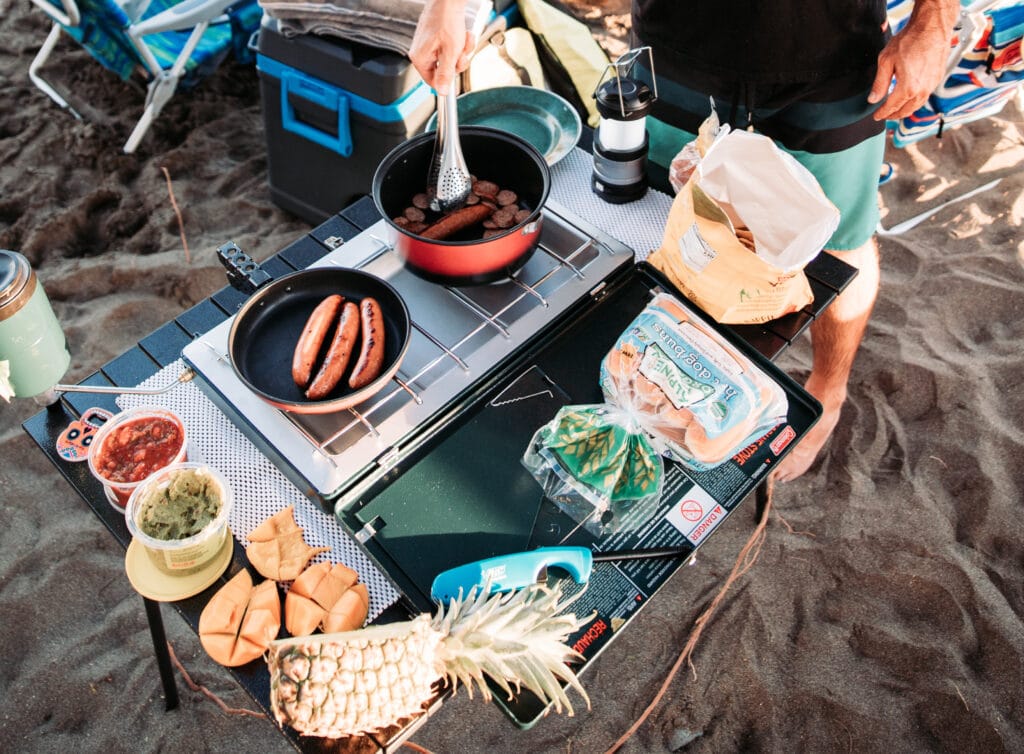 The main and most important item within the cooking gear we provide is the Coleman Classic Propane Stove. Cook breakfast, lunch and dinner on a dependable stove that packs up extremely easily. Since WW2, these camp stoves have been a camping necessity. The fact that the design of their classic stove has barely changed in nearly 80 years, speaks volumes of its dependability, durability, and functionality. The cooking surface offers plenty of room to fit a 12-in. and 10-in. pan simultaneously. When the meal is over, the chrome-plated grate removes for simple and quick cleanup. Along with the stove, we include: a camping set of pots and pans, eating utensils, cooking and serving utensils such as a kitchen knife, can opener, tongs, serving spoons, cutting board,  plates, bowls, and cups and more.
Linens
Our rigs come with 2 pillows with pillowcases, 2 large flat sheets, 1 medium-heavy quilt, and 2 beach towels. A big chunk of our customer base are couples, but if there are more than 2 of you, just let us know and we can provide extra bedding at no charge.
Camping Essentials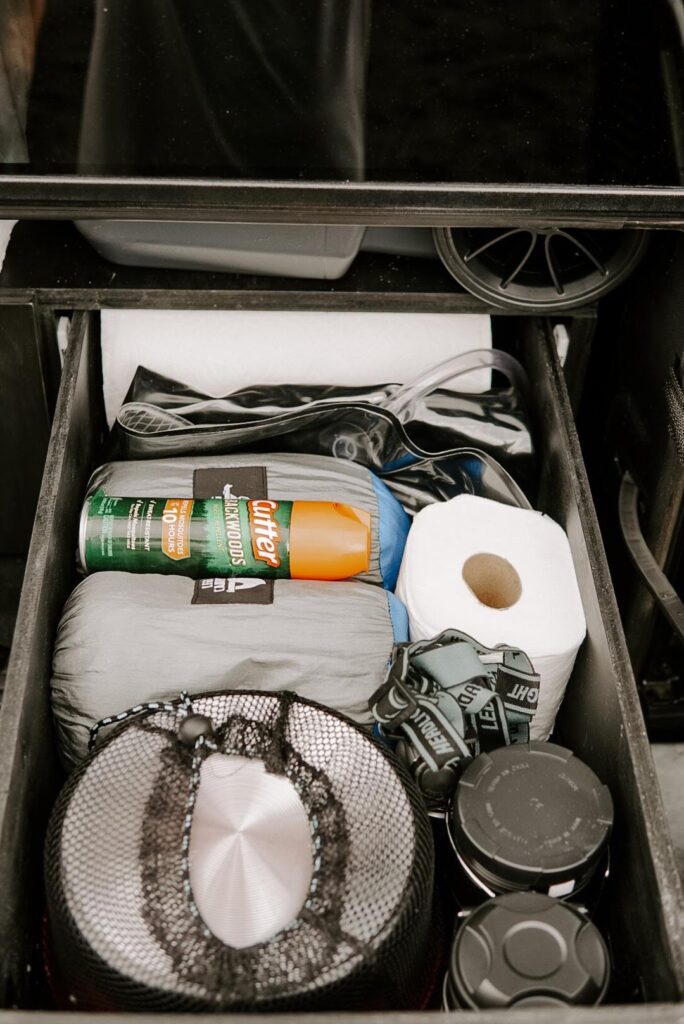 Other items we include are 2 headlamps, small lantern, solar shower, foldable camping table, cooler, Tommy Bahama Foldable backpack chairs (the official chair of Hawaii), 2 sets of U.S Diver snorkeling gear, portable battery charger (with plug in to the jeep's 12v to charge while you drive), TP, paper towel, and more, but those are the main things!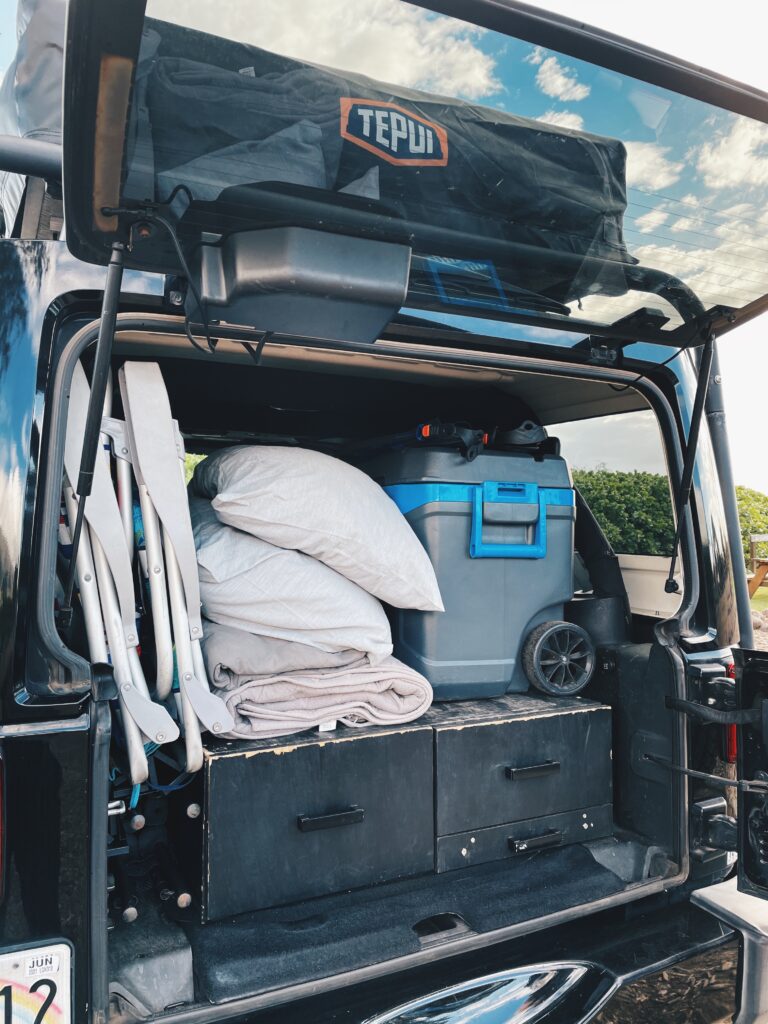 The amazing thing is that all of this gear comes standard with our Jeep rental. So for the price you see when confirming your reservation, you get all of this cool stuff, with no fear of the good ole "add a folding chair for $10" at check out time. No one likes that! Just give me all da stuff bra! 
Service
Lastly, and what keeps our clients coming back for more, is our commitment to service. Over the last few years, we have seen anyone from solo adventure seekers, to  couples or newlyweds looking for an adventurous Maui honeymoon, to small (or even big sometimes) families looking for something different from the usual resort experience. We have seen it all! And of course with different customers, comes different needs. Prior to your trip, we send you a welcome message with instructions on contactless pick-up and drop-off procedures, as well as information on how to set up the tent. In this message, we offer you access to our exclusive list of Maui recommendations and favorite camping spots. We also include the links and procedures pertaining to each spot so you can plan your entire trip and rest assured that all your arrangements are solidified prior to your arrival. 
After you arrive and pick up your Jeep, we don't send you off on your own. We are available to you throughout your trip by phone, text, or through one of our messaging systems for any of your needs. Whether you get a flat tire, get lost somewhere off the beaten path, or just simply need a food recommendation (p.s we love food lol) we are here for you!
The reason why we don't just send you off on your own, is because we want you to have the best possible experience of Maui. And we realize that the best experience of Maui is different for everyone. We began renting out our Jeep campers because we were passionate about the camping experience we are able to provide. But what really makes this enjoyable for us is helping people fall in love with everything Maui has to offer, just like we have! 
Mahalo Nui
Mahalo for letting us share with you why we think Jeep camping is the best way to truly explore Maui. Whether you are a couple looking for an adventurous getaway, or just want to see all that Maui has to offer, we are sure that our Jeep campers will not disappoint. If you have any questions at all about our rigs, or any of the maui  info we have provided here, please feel free to reach out to us anytime through our contact box, or by email or text/call. Or if you feel you've heard enough and are ready to book one of our jeeps, click here! We are happy to help, and look forward to hearing from you!