Have you ever thought about getting a jeep wrangler camper on Maui?
Maui, Hawaii, is a beautiful island with numerous outdoor activities to enjoy. The island has beautiful beaches, breathtaking natural beauty, and a variety species. Maui has something for everyone, whether you like the beach or want to go on an adventure.
To get the most out of your Maui vacation, you'll need a dependable vehicle that can drive you everywhere you want to go. As such, a Jeep Wrangler camper on Maui is a great choice.
Things You Can Do With A Jeep Wrangler Camper On Maui
Here are some of the reasons why you should rent a Jeep Wrangler camper:
Explore the Island's Natural Beauty
Maui has some of the most stunning natural beauty in the world. There's plenty to see and do, from the breathtaking shoreline to the lush green forests. A Jeep Wrangler camper allows you to explore locations that other cars cannot. Off-the-beaten-path hiking trails go to distant beaches, secret waterfalls, and lonely hiking trails.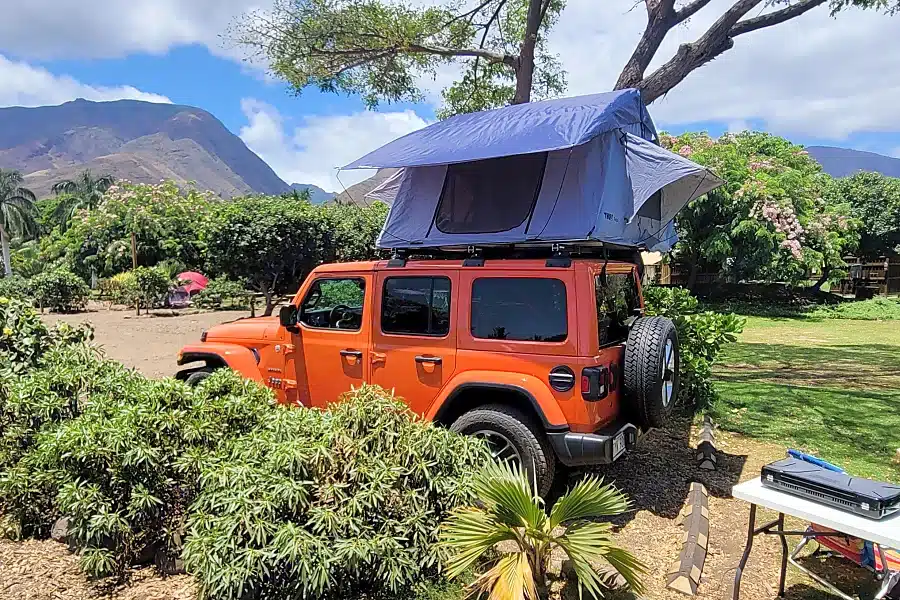 Go Off-Road with A Jeep Wrangler Camper on Maui

Maui's landscape is varied and rugged, and some of the best places to visit require a four-wheel-drive vehicle. A Jeep Wrangler camper is built to handle even the most difficult terrain. You can go off-road without fear of damaging your vehicle. The Jeep Wrangler Camper is outfitted with high-performance suspension, skid plates, and huge off-road tires, allowing you to confidently face any barrier.
Camp in Style
If you intend to spend several days visiting Maui, a Jeep Wrangler camper is the ideal vehicle. You can camp in style and comfort with a roof-mounted tent. The Jeep Wrangler camper's tent provides enough room for two people and a built-in mattress for a restful night's sleep. You can also use the built-in stove to cook your meals and store your supplies in the vast storage area.
Be Self-Sufficient
Maui is a secluded island, and in some parts, utilities such as gas stations and food stores might be difficult to find. A Jeep Wrangler camper is self-contained, with a large fuel tank and lots of storage room for food and supplies. You can go off the usual road without having to worry about running out of gas or food. Discover some of the most exciting things to do on Maui while exploring the island.
Save Money
Maui is an expensive location, and lodging expenses can rapidly mount up. You may save money on lodging and transportation by hiring a Jeep Wrangler camper. You won't have to bother about arranging hotels or renting automobiles because your jeep wrangler camper will provide both. You can also cook your own meals instead of eating out, which will save you a lot of money.
Experience Adventure with A Jeep Wrangler Camper on Maui

Maui is an adventurer's paradise, and a jeep wrangler camper is the ideal vehicle for experiencing it all. Snorkeling, surfing, hiking, and even zip-lining are all options. With a jeep camper, you can load up your gear and go exploring Maui's adventure activities without having to worry about transportation.
A Jeep camper is a great choice for discovering Maui's natural beauty, going off-road, camping in luxury, being self-sufficient, saving money, and having an adventure. If you're going to Maui, try hiring a Jeep Wrangler camper to see everything the island has to offer.