How can you find the best rooftop campers on Maui?
Tents are typically set up on the ground by campers. However, rooftop campers on Maui is the new trend and lots of campers prefer this trend to the usual ground tents.
The best rooftop campers on Maui made quite a stir when they first appeared on campgrounds. People were unfamiliar with the concept of their fellow campers pitching their accommodations several feet above the ground. But now that it's been so well-liked, it seems like everyone wants to try it.
Let's find out what you should consider finding the best rooftop campers on Maui.
What To Consider When Choosing The Best Rooftop Campers On Maui
The number of campers you need to accommodate, the soft shell or hard shell version, the weight of the tent, the weight limit of your vehicle's roof and rack, the storage capacity of your vehicle, the price, the expandability of the tent, the camping environment, durability, and safety all factor into the decision.
Sleeping capacity of the rooftop camper on Maui
One to five people can sleep comfortably on the best rooftop camper on Maui. How many depends on the type of roof-top tent—hard shell or soft shell—as well as the design, size, and footprint of the tent. More campers can fit inside larger tent footprints.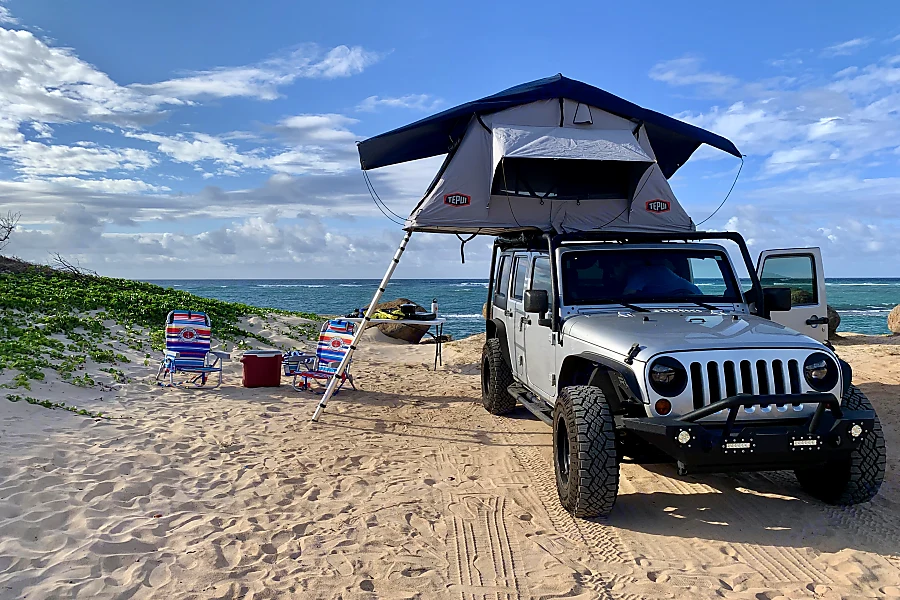 Is it possible to expand a rooftop tent to accommodate more people? No, but if you require more space, there are annexes. Things to think about while evaluating roof-top tents with more sleeping space.
Roof-top tent weight
Your vehicle's roof weight capacity both the dynamic weight limit and a static weight limit
The rack's weight limit
There are a few larger tent varieties, such as the Roofnest Condor XL, that sleep 3–4 campers but the majority of hard shell roof-top tents only hold 2-3 people. Softshell roof-top tents have room for up to five individuals to sleep. Either a hard shell or soft shell tent may be appropriate depending on how many people will be sleeping in the rooftop tent. Find out how to choose the right camper jeep on Maui.
Weight of the rooftop camper on Maui
Rooftop tents weigh a lot. • You'll need assistance erecting a roof-top tent on your rack because they often weigh between 100 and 200 pounds. Initial installation is a little challenging due to the weight, however, once they are on your roof, they are quite simple to set up.
• The weight of roof-top tents reduces fuel efficiency
• If no free shipping choices are offered, expensive shipping costs can be incurred. Consider ship-to-store for free delivery if the tent of your choosing doesn't include it, like those from Roofnest.
• The roof and rack of your car must be strong enough to support the weight of the roof-top tent.
Weight Limit of your Vehicle's Roof and Rack
Most roof-top tents are above 100 pounds in weight. Although practically any car may fit a roof-top tent, every vehicle and roof rack has its own restrictions. Verify that your car and the rack you're using match the standards.
Finding the roof weight capacities for your car and its rack can be challenging. It is frequently necessary to do some research or even contact the manufacturer. If you conduct an online search for these specifications. Verify that the source of the data is a reliable website. Discover why you should opt for Maui local car rentals.