Should you rent a tent camper on Maui?
Renting a tent camper for camping on Maui has always been a great idea. With a tent camper, car camping has never been easier. They offer an almost unparalleled level of comfort, convenience, and protection from harmful insects and other critters. Renting a tent camper also mean you'll fit perfectly into any authorized campsite for car camping. These are just some of the factors that make a rooftop tent essential gear for road trips and camping. Check out the various types of tent campers you can rent on Maui.
Why rent a tent camper on Maui?
Renting a tent camper is always the right choice. Read on to figure out why many campers prefer renting a tent camper on Maui:
Frees up storage space
Renting a tent camper on Maui frees up storage space. You don't need a tent bag with the poles and other supplies. You now have extra room inside your car for other gear because the rooftop tent is mounted to your roof rack. Additionally, you won't need to keep or hang onto the other accessories that are frequently used with tents, such as uncomfortable poles, cumbersome air mattresses, and sleeping bags.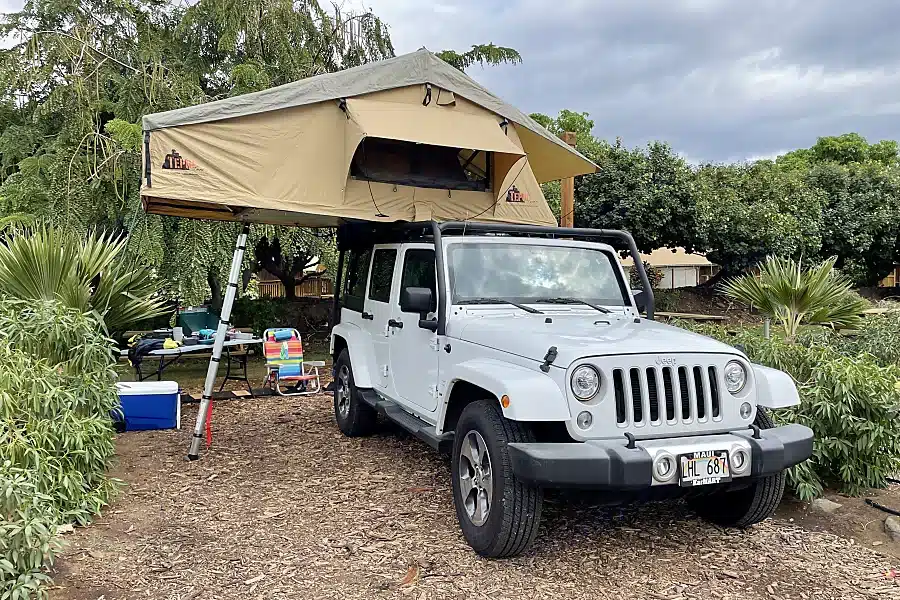 This means that whatever else you might want or need for your trip will have enough room in your car for storage. This explains why tent campers on Maui are in high demand. With a heavy-duty frame, UV and mold-resistant material, and construction meant to last years of future road trips, tent campers on Maui are always your best bet. Figure out other key reasons to rent a tent camper on Maui.
Rent a tent camper on Maui for mobility and convenience

You can enjoy camping in any authorized campsite on Maui once you rent a tent camper on the island. Even more, rooftop tents are ideal for road vacations, weekend excursions to the rocky mountains, and other outdoor adventures when traveling.
You'll have complete flexibility to travel whenever and wherever you like. All you have to do is reserve an authorized campground and a camper van in advance to get the most out of your trip.
Safety and security
Insects and animals are better prevented from entering the tent since it is elevated. Additionally, if it rains during the night, there is less chance of flooding or muck. Rooftop tents are safe and prepared for the harsh elements. When you spend the night in a rooftop tent – off the ground and away from any rodents and critters you'll immediately sense the difference in the sensation of comfort, protection, and security!
A comfortable night's rest
When you rent a tent camper on Maui, you'll get a strong and durable base as well as a cozy built-in mattress. To prevent moisture from accumulating, certain models come with an anti-condensation mat. A bottom that is strengthened (usually made of aluminum, steel, or even fiberglass) offers stability while the internal frame is covered and constructed to withstand harsh conditions.
The rough ground and the comfortable mattress are separated by its sturdy foundation. Rooftop tents are also not designed to be as lightweight as regular ground tents for transporting. The material is thicker, more robust, and long-lasting because they are mounted on the top of a camper van. For a warm and comfortable night's sleep, the thicker fabric traps more heat inside.
Rent a tent camper on Maui because its easier to set up
Tent campers on Maui are easier to set up than a typical ground tent. They are set up on a roof rack for a tent camper that has a cover. Simply take off the cover, unbuckle the straps, erect the ladder, and unfold when you're ready to set up. You'll need an additional 5–10 minutes to set up if you're putting up the annex.
The entire process is easier and straightforward because there are no poles to connect to one another or heavy stakes to drive into the ground. Contrary to other tent varieties that take longer and require more effort to set up. When you rent a tent can camper on Maui, you don't need any extra hand to assemble or take it down.