Rooftop tent campers on Maui provide one of the most adventurous and exciting ways to enjoy camping on the island. With a roof top tent camper on Maui, you can explore the island as much as you want, while traveling at your pace. You can also enjoy camping on authorized campsites on Maui. But are roof top tent campers on Maui really right for you? Read on to find out.
Why campers prefer rooftop tent campers on Maui
Serial campers and first timers now prefer rooftop tent campers on Maui for various key reasons. We've shared some of the major reasons here to give you an idea of what to expect if you decide to go with rooftop tent campers on the island:
Convenience of mobility
Rooftop tent campers on Maui are excellent for outdoor adventures, road trips, and for getting around whenever you're exploring the island. With Zazu roof top tent campers on Maui, you can enjoy camping on permitted campsites on the island.
As a result of roof top tent campers' convenience of mobility, you'll have complete freedom to go whenever and wherever you like, as well as being able to visit attractions, spending time at the beach – all at your own pace.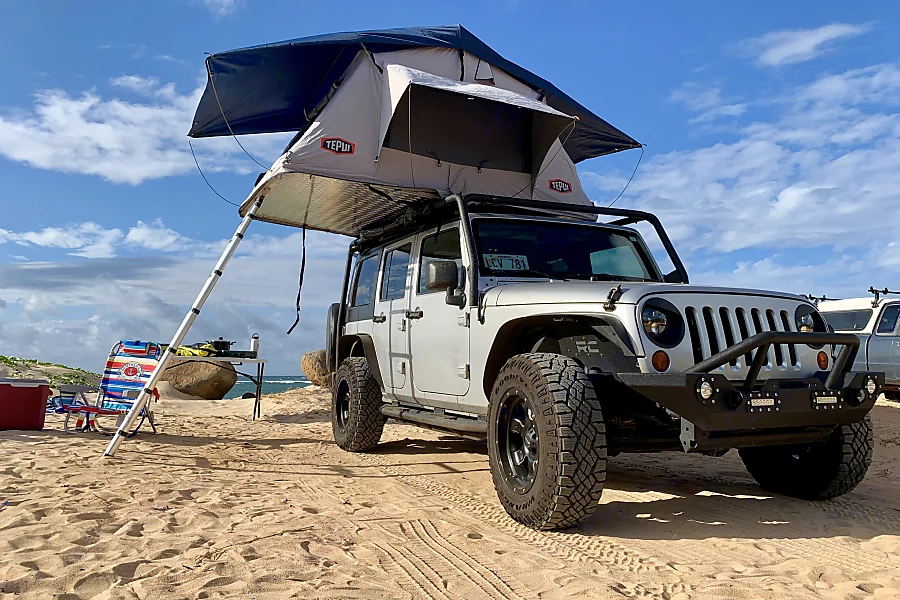 Rooftop tent campers on Maui are easier to set up
Rooftop tent campers on Maui are easier to set up than a typical ground tent. They are positioned on a roof rack that has a cover. Simply take off the cover, unbuckle the straps, erect the ladder, and unfold when you're ready to set up. You might need some more minutes to set up if you're putting up the annex.
Setting up roof top tent campers on Maui are straightforward because there are no poles to connect to one another or heavy stakes to drive into the ground. Zazu Campers rooftop tents, in contrast to other tent options, are quicker and easier to set up because of their uncomplicated and effective design. Here's a beginner's guide to camper jeep rental on Maui.
Rooftop tent campers on Maui are safe and secure
Insects and animals are better prevented from entering the tent since it is elevated. Also, if it rains at night, there is less chance of flooding or muck. Rooftop tents are safe and suitable for all kinds of weather. When you spend the night in a rooftop tent, off the ground and away from potential rodents and wildlife, you'll immediately notice the difference in how comfortable, safe, and secure you feel! Read about these Maui car camping tips for an exciting camping experience.
Frees up storage space
The tent bag and other supplies don't need to be packed. You have extra room inside your jeep for other things now that the rooftop tent is mounted to your roof rack. Even more, you won't have to bother about how to store the various items that are generally used with a tent, such as hefty air mattresses, uncomfortable poles, and sleeping bags. This means that you'll have enough room in your jeep to store anything else you might need for your trip or camping.
Enjoy a comfortable night's rest
Zazu rooftop tents have a strong and stable base as well as a cozy mattress built right in. You can enjoy a comfortable night rest after spending the day exploring the island and having fun.
Rooftop tent campers on Maui are also not designed to be as lightweight as regular ground tents for transporting. The material is thicker, more robust, and long-lasting because they are mounted on the top of a Jeep Wrangler. For a warm and comfortable night's sleep, the thicker fabric traps more heat inside.