Jeep with tent on top rental on Maui is a great way to explore the scenic island and all it has to offer. Jeep with tent on top rental on Maui can provide you with an unforgettable experience, allowing you to camp in authorized remote locations without having to worry about setting up a tent.
The Jeep comes equipped with all the amenities for camping that one might need including, sleeping bags, pillows, cooking utensils and more. Not only does this type of rental provide convenience but also incredible views as you traverse off-road trails throughout the island. Here's your ultimate guide to Maui camping rentals.
Advantages of a jeep with tent on top rental on Maui

Enjoy off-roading
One of the primary advantages of renting a Jeep with tent on top on Maui is off-road exploring. Not only does this type of rental provide convenience but also the opportunity to explore areas that are inaccessible by car or foot, allowing you to discover hidden gems along the way. With a Jeep Wrangler and tent on top, you can traverse rugged off-road trails while taking in stunning views that most visitors never get to experience.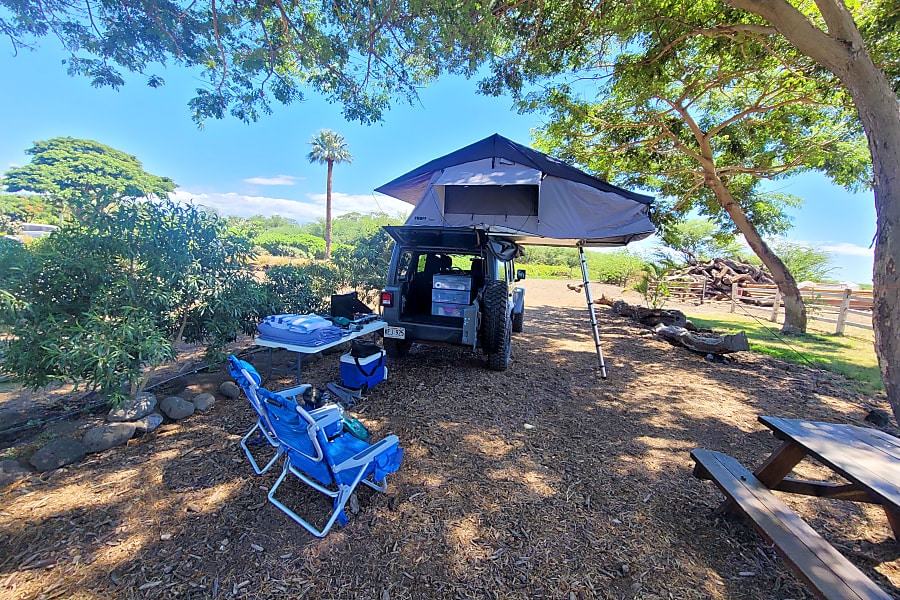 Easier to set up
Another great benefit of selecting this mode of transportation is its easy setup process. Setting up camp is fast and simple due to the built-in tent that comes with your vehicle so no need for any extra tools or equipment – just pull over, open it up and enjoy! This makes camping much more accessible for travelers who don't have time or energy to dedicate towards setting up their own tents from scratch each night.
Why Choose A Jeep With Tent On Top Rental On Maui?
Go wherever you want!
Whether you're looking for an unforgettable road trip or just want to get away from it all without sacrificing comfort – this rental option has everything you need. The included tent provides shelter while also keeping out any unwanted pests or critters that might be roaming around in the area. And if camping isn't really your thing, there are plenty of other amenities available such as sleeping bags, pillows, and more!
But perhaps one of the best reasons for choosing a jeep with tent on top rental on Maui is its unbeatable views from up high. You can take in stunning panoramic vistas from atop this elevated platform – allowing you to appreciate nature's beauty like never before! Whether it's watching a beautiful sunset over rolling hillsides or spotting whales breaching off shore – these jaw-dropping sights will be sure not only make lasting memories but create some amazing photo opportunities as well! Here are exciting things you can do with a camper rental on Maui.
Experience adventure like no other!
So if you're looking for an unforgettable adventure unlike any other – look no further than renting a Jeep Wrangler with tent on top while vacationing in Maui! From lush rain forests and majestic sunsets, there's something truly magical about driving around these tropical paradise in your very own Jeep completes with cozy sleeping quarters right above!
Plus, it may be more affordable than expected when taking advantage of special packages that include amenities such as guided tours or one-way drops offs at various locations across the island.