Are you considering renting a tepui roof top tent jeep on Maui?
A tepui roof top tent jeep on Maui has several key advantages over camper trailers, travel trailers, and RVs in terms of mobility, comfort features, durability, safety, and convenience of use. For many campers and overlanders, the benefits of renting a tepui roof top tent jeep on Maui always outweigh any drawbacks. Read on to find out what makes the tepui roof top tent jeep a great choice.
Benefits of Tepui Roof Top Tent Jeep On Maui
The tepui roof top tent jeep on Maui isn't just a strong jeep that's suitable for all terrains, the road beast comes with several other features that makes it stand out. Read on to learn more.
Keeps Insects Out of Your Tent
Are tepui roof top tent jeeps on Maui safer than ground tents? It will be more difficult to keep creepy crawly insects like spiders, ants, and scorpions out of a ground tent.  When you are high up in a roof top tent, wildlife is less of a threat. Your outdoor penthouse will be off-limits to animals and insects like rats, spiders, ants, and other similar bugs.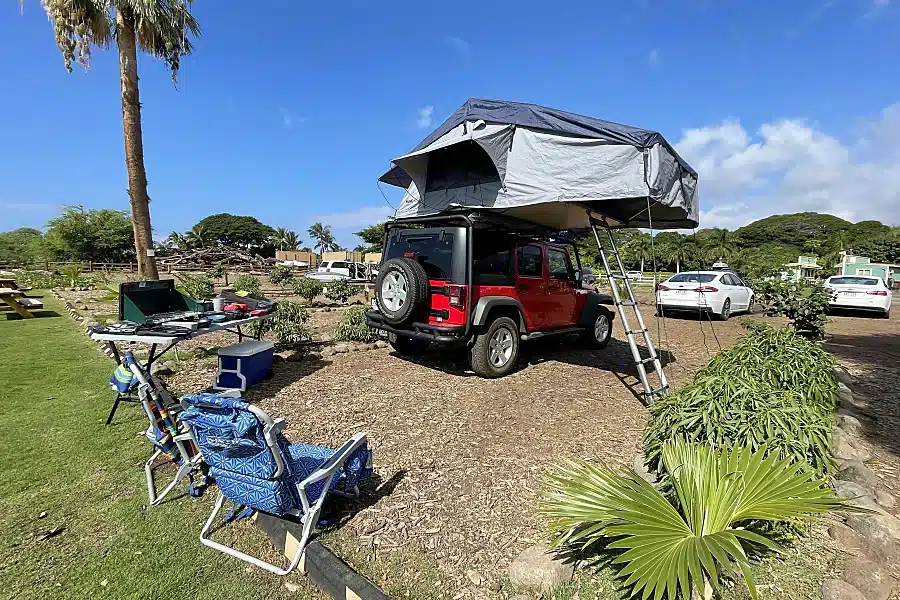 Tepui Roof Top Tent Jeep On Maui Guarantees Comfort
A tepui roof top tent jeep often include a high-density foam mattress for a comfortable night's sleep and mesh windows and doors for ventilation. For more light during the day and a soothing view of the stars at night, some even include a sky view glass in the roof. It guarantees the comfort you need to be away from home while camping. Find out why renting a tent camper on Maui is such a great choice.
Expandability
Do you need more space? Awnings can be used with either the soft- or hard-shell variants of some soft-shell roof top tents to provide additional shade, and some of them have annexes that can be added. Discover exciting things to do with a camper rental on Maui.
Easy Setup and  take down
It just takes one person to set up and take down your roof top tent jeep, and both processes are quite simple. Additionally, it is quick to set up if you have an annex. It's not even necessary to make your bed before breaking camp. Inside, the mattress is folded up. Once the day's camp out is over, you can easily take down the tent and your bedding should be inside as well.
The tepui roof top tent jeep on Maui is very mobile
When you have a roof tent, you are much less constrained. With trailer tents, camper trailers, travel trailers, and RVs, they enable you to visit locations you could only have imagined.
The View
With a mobile roof top tent, you get magnificent views that are not possible with ground tents. You'll enjoy the view from a higher vantage point, whether it is of the mountains, lake, river, ocean, or elevation above the forest floor.
More Room in Your Vehicle
You'll have more room inside your car for your family, friends, and necessary camping supplies when the tent is put on the roof. When you pack additional items, one thing to keep in mind is how to keep your camping equipment safe. If you want to leave the campsite for the day by car, you might want to pack your belongings. Undoubtedly, you'll need to disassemble the roof tent.